Family Owned and Operated for Over 35 Years
3400 E. Walnut Street
Colmar, PA 18915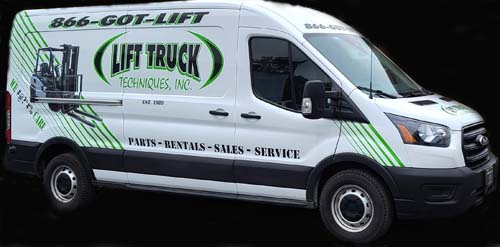 Industrial Tire Sales
We carry pneumatic tires, solid rubber tires, polyurethane tires, and other industrial tires to fit your lift or other warehouse vehicle.  Since there are many variables to selecting the correct tire, give us a call or contact us here for assistance.  Since poly tires need to be pressed onto the rim, bring the wheels in and we'll do that for you as well.
Proper lift tire selection
In most cases, the lift manufacturer specifies the tire you'll need for your particular unit.  Indoor units traveling on smooth surfaces or clean outdoor asphalt  typically use a cushion tire – a smooth solid tire constructed from either rubber or polyurethane.  Their smooth surface makes them a good choice for warehouse use but not in areas where terrain is uneven or bumpy.  Since these tires are solid and typically only used on smooth surfaces, these tires tend to last a long time when maintained properly. 
Pneumatic tires are typically used in outdoor applications.  These are similar in construction to car or truck tires.  They have tread and are most often inflated, although solid rubber or foam-filled pneumatic tires are often used in construction, junkyard, or other situations where an increased number of nails and sharp objects risk puncturing the tire.   It's important to make sure your lift is outfitted with the proper type and size of tire. 
Lift Truck Techniques knows tires well.  When you call us, we'll make sure you get the right industrial tire for your lift.